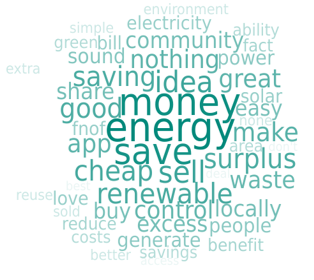 Understanding consumers in the Smart Local Energy System is a vital part of creating attractive value propositions that can drive successful business models.
Few energy consumers understand or can accurately explain how they use energy in their everyday lives. Even people who want the same outcomes from energy, like getting warm and comfortable at home, or charging their car to be ready for work the following day, may go about it in entirely different ways.
Lack of consumer insight is already challenging the energy sector. The forces of decarbonisation, digitalisation and decentralisation, will further challenge innovators to put consumers at the heart of their product and service development.
The purpose of this survey is to provide Concept Designs projects within the PFER programme with initial insight on how Smart Local Energy Schemes and service offerings may be perceived by some consumers
Consumer feedback was sought on four service concepts, commonly found across a number of the ERIS Smart Local Energy Service projects.
The findings are detailed in this report to support the development of local energy innovations that consumers like because they meet their needs and expectations.
4 service concepts were evaluated:
Peer to Peer trading (P2P)
Demand Side Response (DSR)
Vehicle to Grid energy usage (V2G)
Heat as a Service (HaaS)
Research topics included:
Evaluating the appeal of the service concepts
Understanding the positives and negatives that consumers identify in these service concepts
Exploring common themes across the Smart Local Energy System projects that were summarised in the 4 service concepts listed above